Participate in Group Vishnu Dashavatar Mahapuja on the auspicious occasion of Parama Ekadashi on 12th August, 2023 (Saturday) and seek the blessing health, wealth, prosperity and spiritual growth.
Dashavatar represents the ten avatars or incarnations of Lord Vishnu. Lord Vishnu is one of the three supreme deities of Hinduism along with Lord Brahma and Shiva. Lord Vishnu is the protector and the preserver of the universe and whenever the universe is in danger, Lord Vishnu takes an avatar for the protection of mankind. Lord Vishnu takes 10 incarnations during various yugas for the protection of mankind and these 10 incarnations together are known as Dashavatar. The 10 avatars of Lord Vishnu are Matsya Avatar, Kurma Avatar, Varaha Avatar, Narasimh Avatar, Vamaha Avatar, Parashurama Avatar, Lord Rama Avatar, Lord Krishna Avatar, Lord Buddha Avatar and Lord Kalki Avatar. The Dashavatar of Lord Vishnu are worshipped for health, protection and prosperity.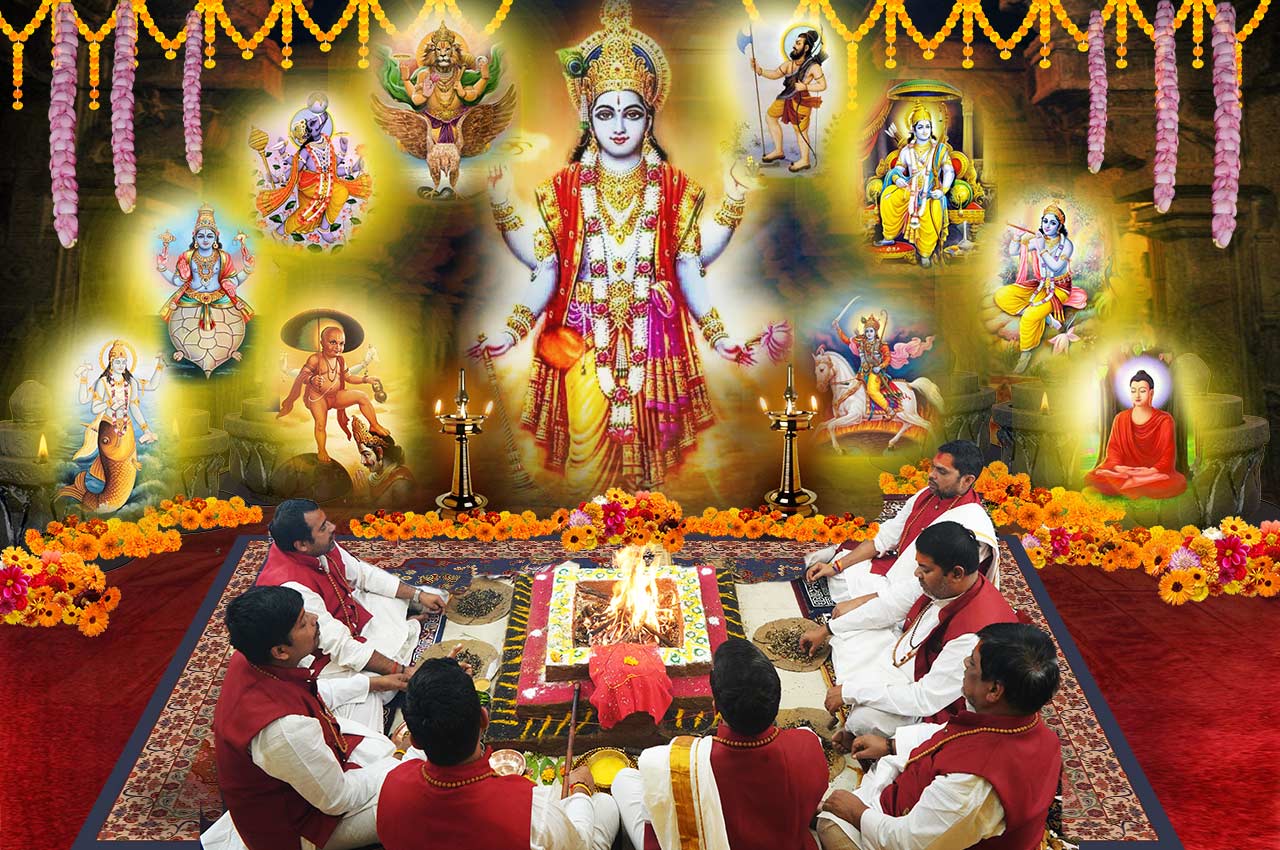 This is a group puja done along with other Yajamans.


Vishnu Dashavatar Mahapuja Benefits:
For divine grace and blessings of Lord Vishnu
For Health, wealth and prosperity
For spiritual upliftment and materialistic benefits
For protection and relief from diseases

Dashavatar Mantra:
Sri Matysa (Fish form- Ketu): "Om Matsya Rupay Namah"
Sri Kurma (Tortoise form- Saturn): "Om Koorm Rupay Namah"
Sri Varah Mantra (Boar form-Rahu): "Om Varahaye Namah"
Sri Narasimha (Man-lion form – Mars): "Om Namo NaraSimhaye"
Sri Vamana (Priest or Brahmin- Jupiter): "Om Vamana Rupay Namah"
Sri Parashuram (Warrior priest- Venus): "Om Parashuramaay Namah"
Sri Rama (Perfect Human form – Sun): "Om Ram Ramaya Namah"
Sri Krishna (Transcendental Human form-Moon): "Om Kleem Krishnaay Namah"
Sri Buddha (Student form- Mercury): "Om Gautambuddhaay Namah"
Sri Kalki (Divine protector – Ascendant): "Om Kong Kalki Devay Namah"

Click here to Hear Dashavatar Mantra


Puja service includes: Kalash Sthapana, Panchang Sthapana (Gauri Ganesh, Punyavachan, Shodash Matrika, Navgraha, Sarvotabhadra), 64 yogini Pujan, Shetrapal Pujan, Swasti Vachan, Sankalpa, Ganesh Pujan and Abhishek, Navgraha Pujan and 108 chants of each planetary mantra, Invocation of major Gods and Goddesses in Kalash, Shaligram Abhishek and Pujan, Vishnu Sahasranaam, Vishnu Stuti, Dashavatar Mantra Jaap (1100 each avatar), Dashavatar Strotra recitation, Homa, Aarti, Pushpaanjali


No. of Priests: 7

Puja would be Live Streamed

A short Video of the Sankalpa, multiple videos of the puja, mantra chanting and homa would be sent to you along with the photographs of the Puja ritual. Please provide your whatsapp number if possible for easy coordination.

Rudra Centre priests will perform Puja as per Vedic rituals based on birth details. Please mention your name, birth details or gotra and parents name and your Sankalpa (intention) at checkout. This is group puja along with other yajaman (you may do puja on individual name or include your near and dear ones in the puja). You can watch the puja via Live streaming whose link we would send to you before the start of the puja. Videos and pictures would be shared with you while the puja is live. Please share your WhatsApp number with us for easy coordination.

Puja Prasad is sent optionally with the puja.