Participate in Shravan Maas Maha Puja and get blessings of Spiritual growth, Health, Harmony and Desire Fulfilment.
Shravan Mahina, or Sawan Month or Shravan Maas (4th July to 27th August) is one of the holiest months in a traditional Hindu calendar. All, Mondays or Somvars of Shravan month are specially observed with austerity as these days are replete with Lord Shiva's blessings. In 2023 this period starts on 4th July and ends on 27th August and Mondays will fall on 10th July, 17th July, 24th July, 31st July, 7th August , 14th August, 21st August and 28th August.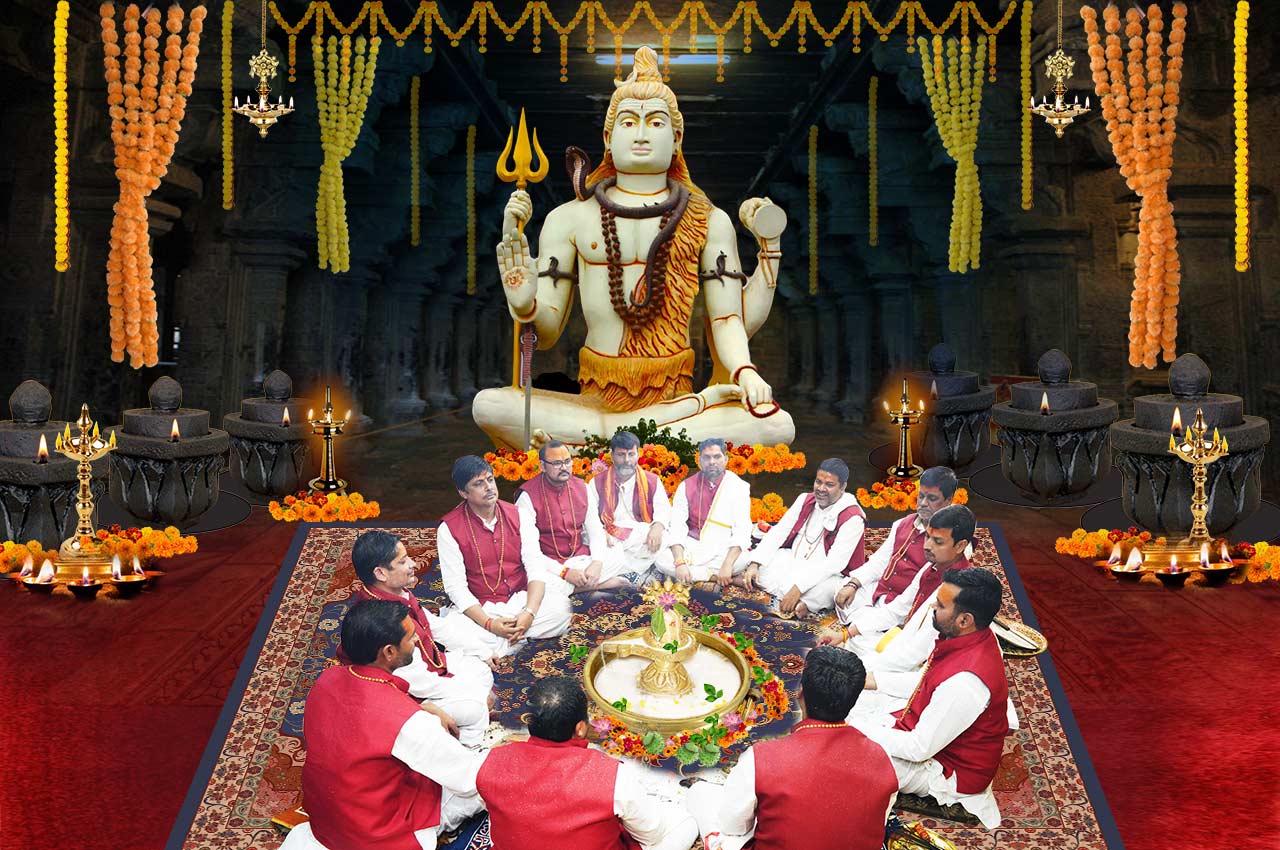 For North India (Rajasthan, Uttar Pradesh, Madhya Pradesh, Punjab, Himachal Pradesh and Bihar): 4th July to 12th August 2023.
For Rest of India (Andhra Pradesh, Goa, Maharashtra, Gujarat, Karnataka and Tamil Nadu): 29th July to 27th August.
Many devotees observe sixteen Mondays or Solah Somwar fasting from the first Somwar of Sawan month and continue for the next fifteen weeks. Even, wedded couples keep the Solah Somwar Vrat for a blissful married life. Apart from all Mondays, all Tuesdays (Mangalwar) in Shravan month are dedicated to Goddess Parvati – a few devotees also observe fast on Tuesday during the holy month to please the consort of Lord Shiva.
The legend says that the churning of ocean by the Devas and Asuras for the nectar of immortality which was Samudra Manthan took place in the month of Shravan. In this Mt Mandar was used as the churning rod, Vasuki snake became the churning rope and Lord Vishnu took the form of a tortoise to balance the mountain. The churning of the ocean released many wonderful treasures that became the prototypes for their earthly and heavenly counterparts. But it also produced a deadly poison called Halahala. Lord Shiva drank the Halahala to save the world and held it in His throat which made it Blue. Hence the name Neelkantha (meaning blue throated One) is attributed to Shiva. To reduce the strong effect of poison, Lord Shiva wore the crescent moon on His head meaning His emotions were stabilised. The Gods offered Ganges water to cool Lord Shiva and to alleviate the ill effects of the poison and playing instruments and danced in order to keep Him awake throughout the process. Since, this happened in the month of Shravan, Shiva devotees offer Abhishekam (ritual bathing) to Lord Shiva and pray to Him and meditate in the night to get His blessings for mitigating their karma and removing negativity from life. It is said that the one who worships Lord Shiva in the month of holy Shravan is freed from all bondages of illusions, fear and negative beliefs and sins of Karma and is propelled on the path of Moksha.
In this Maha Puja, Lord Shiva would be worshipped with chants of Rudram Namakam Chamakam, Puru Suktam, Shiva Strotras and Stutis. Abhishekam of Shiva linga with ganges water, milk, ghee, curd, honey, coconut water, panchamrit, different juices, bhasma and exotic herbs will be performed and Lord Shiva would be offered His favorite items which are 1008 belpatra, baelfruit and dhatura.
This is a group puja done along with other Yajamans.
Shravan Maas Maha Puja Benefits:
For Removal of malefic effects of various planets
For relief and protection against various diseases and ailments
For early marriage with suitable partner
For success in career and attraction of suitable opportunities
For cleansing of consciousness and for spiritual growth
For divine grace and blessings of Lord Shiva
Puja service includes: Kalash Sthapana, Panchang Sthapana(Gauri, Ganesh, Shodash Matrika, Navgraha, Sarvotabhadra), 64 yogini Pujan, Shetrapal Pujan, Swasti Vachan, Sankalpa, Ganesh Laxmi Pujan and Abhishek, Navgraha Pujan and 108 chants of each planetary mantra, Puja of major Gods and Goddesses, Abhishek with exotic milk, exotic liquids and juices, Rudram Namakam Chamakam recitation, Rudra Suktam, Shiva Strotra, Stuti, Pranav mantra japa – 11,000 chants, Homa with Rudra Ahutiya, Aarti and Pushpaanjali
Pranav Mantra: Om Namah Shivaya
Number of Priests: 7
Puja would be Live streamed.

A short Video of the Sankalpa, multiple videos of the puja, mantra chanting and homa would be sent to you along with the photographs of the Puja ritual. Please provide your whatsapp number if possible for easy coordination.

Rudra Centre priests will perform Puja as per Vedic rituals based on birth details. Please mention your name, birth details or gotra and parents name and your Sankalpa (intention) at checkout. This is group puja along with other yajaman (you may do puja on individual name or include your near and dear ones in the puja). You can watch the puja via Live streaming whose link we would send to you before the start of the puja. Videos and pictures would be shared with you while the puja is live.

Please share your WhatsApp number with us for easy coordination.