Worship the Navdurga with Sharad Navratri Mahapuja on the occasion of Sharad Navratri (15th to 24th Oct , 2023.)
Let us pray to Mother Divine in all Her 9 Shakti forms in Navratri Mahapuja 15th to 24th Oct, 2023 culminating to the Dussehra/Vijayadashami festival and seek the blessings of power, health, wealth and success.
Kanyaa Pooja is the most essential part of Navratri which pleases Goddess Durga the most. Nine girls (below the age of 13) are invited on the eighth day (Ashtami) or ninth day (Navami) of Navratri, then they are dressed and worshipped as goddesses, as they are contemplated to represent the nine goddesses or nine manifestations of Goddess Shakti. Rudra Centre Puja Services is performing Kanyaa Pooja on the ninth day of Navratri (23rd October 2023).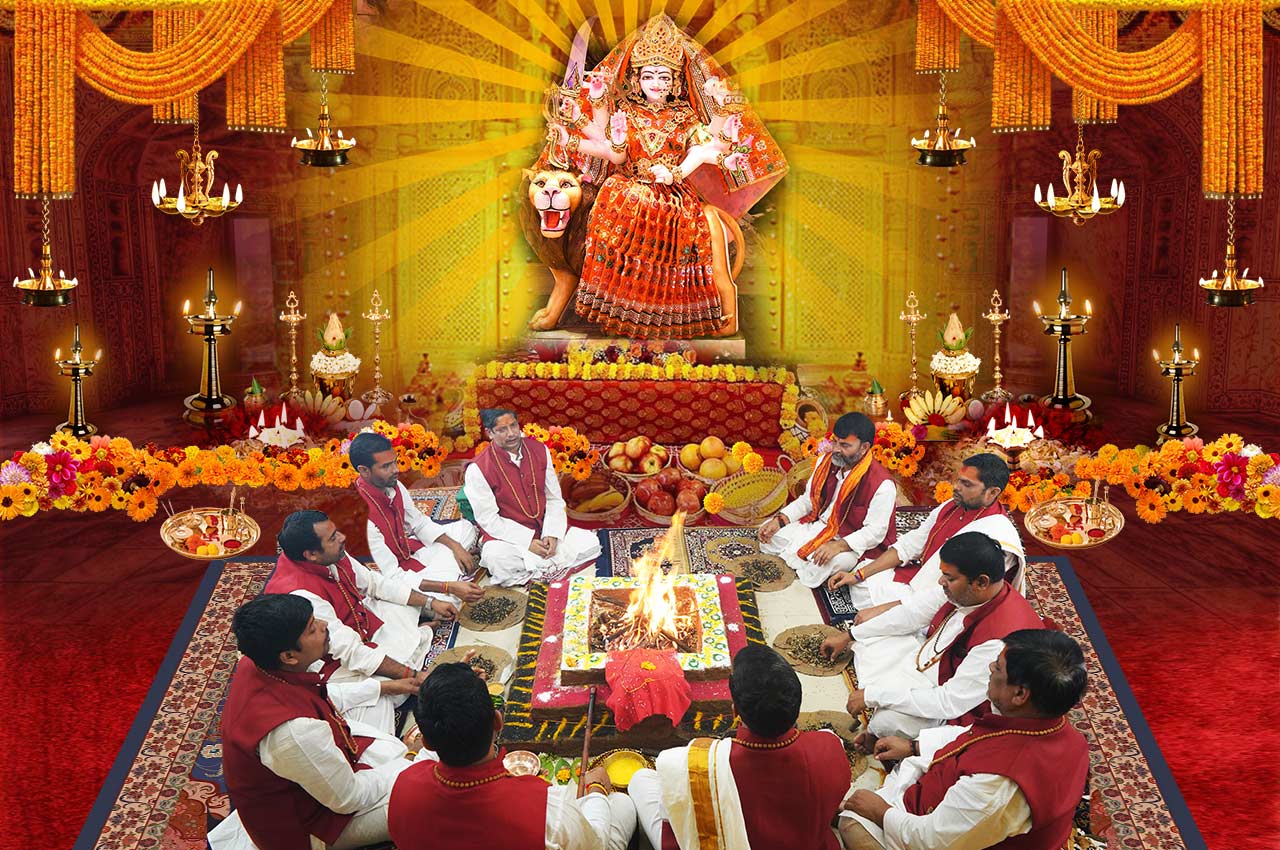 Navratri Mahapuja is a powerful and elaborate Puja and Yajna in which the nine manifestations of Maa Navdurga are invoked and worshipped using the powerful Saptashati mantras. In 2023, Navratri will be celebrated from 15th to 24th Oct during which one of the nine forms of Mother Goddess namely Maa Shailputri, Brahmacharini, Chandraghanta, Kushmanda, Skandmata, Katyani, Kalratri, Mahagauri and Siddhidatri will be worshipped each day. The first day of Navratri is very important and on this day, Ghat Sthapana is done wherein a pot is installed with Navdhanya or 9 grains and they sprout in this period signifying fertility and abundance to the devotees.
In Navratri, on the first three nights, Kali or the destructive aspect of the Mother is worshipped. Next 3 nights are for Her creative aspect or Lakshmi and on the last three nights, the knowledge aspect of Hers which is Saraswati is meditated upon. Significance of this is that She first destroys the evil propensities that lurk in the mind; then She implants therein, the Daivi Sampat or the divine qualities conducive to spiritual enfoldment and then She bestows true knowledge to the devotee.
For Maa Durga devotees, She is Goddess Shakti or Para Brahman or the Supreme Consciousness and Navratri is the best time of the year to seek Her Divine blessings. Maa Durga appeared when the Trinity of Gods Lord Brahma, Vishnu and Shiva puts their powers together to destroy the evil demon Mahishasur. She got Her weapons from different Gods and held the power of the Trinity. She fought Him in battle for 10 days during which She assumed different forms and on the tenth day she mounted on him and killed him. Legend says that Lord Ram worshiped the Goddess for nine days and with her defeated the demon king Ravana. The tenth day is celebrated as Dussehra and Vijayadashami and signifies victory of good over evil.
Participate in Navratri Mahapuja for spiritual growth and positivity and also seek the blessings of good health, protection, wealth, power, prosperity and success from the Divine Mother.
Navratri Mahapuja Benefits:
Blessings of health, wealth and prosperity
For spiritual growth, prosperity and enhancing of sattva tattva around
For protection and power to successfully face all odds
Divine grace and blessings of Ma Durga
This is a group puja done along with other Yajaman.
Day 1 – 15th October – Goddess Shailputri – On this day, devotees worship an incarnation of Goddess Parvati named Shailputri meaning Daughter of the mountains (Himalayas).
Day 2 – 16th October – Goddess Brahmacharini – Goddess Brahmacharini, an incarnation of Goddess Paravati, is worshipped on the second day of Navratri. Devi Brahmacharini is known for her pure and sincere devotion and determination.
Day 3 – 17th October – Goddess Chandraghanta – Goddess Chandraghanta is worshipped on the third day of Navratri. She rides on a tiger and there is a crescent moon decorating her forehead. The name Chandraghanta means the one with a moon on her forehead.
Day 4 – 18th October – Goddess Kushmanda – Goddess Kushmanda is worshipped on the fourth day, and she is known for vegetation on earth. This form of Goddess Durga rides on a lion and has eight hands with seven deadly weapons in addition to a rosary.
Day 5 – 19th October – Goddess Skandamata – On the fifth day, devotees worship Goddess Skandamata, a symbol of the strength of a mother when her child is confronted with danger. According to Hindu scriptures, Maa Skandamata is the mother of Lord Kartikeya. She is a four-armed deity who carries a lotus in two of her arms with a sacred Kamandalu and a bell in the other two.
Day 6 – 20th October – Goddess Katyayani – An incarnation of Goddess Durga, Goddess Katyayani is worshipped on the sixth day of the holy festival. According to scriptures, Maa Parvati took the form of Katyayani to annihilate the demon Mahishasura.
Day 7 – 21st October – Goddess Kalaratri – Goddess Kalaratri is believed to be one of the fiercest forms of Goddess Durga who is worshipped on the seventh day of Navratri.
Day 8 – 22nd October – Goddess Mahagauri – Goddess Mahagauri symbolises purity, peace, and serenity. Goddess Durga's ardent devotees observe a fast on Mahashtami to seek her blessings.
Day 9 – 23rd October – Goddess Siddhidatri – Goddess Siddhidatri is worshipped on the final day i.e. ninth day of Navratri. Siddhdatri-Siddhi means meditative ability and Dhatri means giver. Kanya puja is also performed on Ram Navami. Firstly, the devotees wash the feet of the nine little girls then offer them food which is called Kanya-prasadam.
Day 10 – 24th October – Goddess Durga / Dussehra – The day is celebrated as a day of victory of good over evil. On this day Lord Rama defeated Ravana and also Goddess Durga defeated Mahishasura.
Puja Services Include: Kalash Sthapana, Ghat Sthapana, Panchang Sthapana(Gauri Ganesh, Punyavachan, Shodash Matrika, Navgraha, Sarvotabhadra), Invocation of Durga, Gauri Tilak mandal, 64 yogini Puja, Sapthgrihith Matrika Pujan, Chatukashti Yogini Mangal Pujan, Shetrapal Pujan, Swasti Vachan, Sankalpa, Ganesh Laxmi Pujan and Abhishek, Navgraha Pujan and 108 chants of each planetary mantra, Invocation of all Gods and Goddesses, Durga Idol and Yantra Abhishek pujan, Complete Durga Saptashati paath, Navdurga Mantra Japa 5100 times of the specific Goddess, Pushpanjali, Homa(15 different items) and Aarti. On the last day (24th October) Dussehra pujan with offerings of sugarcane, jaggery and paddy, Ram Parivar Pujan, Recitation of Sunderkand and chanting of 108 Paath of Hanuman Chalisa would be carried out.
Navdurga mantra:
Om Shaam Sheem Shoom Shailputryai Namah – ॐशामशीमशूमशैलपुत्र्यैनमः
Om Braam Breem Boom Brahmcharinyai Namah – ॐब्रांब्रीमबूमब्रह्मचारिण्यैनमः
Om Hreem Kleem Shreem Chandraghantayai Namah – ॐह्रींक्लींश्रींचंद्रघंटायैनमः
Om Hreem Kushmandayai Jagatprasootyai Namah – ॐह्रीमकुष्मांडायैजगत्प्रसूतायैनमः
Om Hreem Saha Skandmatryai Namah – ॐह्रींसहस्कंदमत्र्यैनमः
Om Hreem Shreem Katyayanyai Namah – ॐह्रींश्रींकात्यायन्यैनमः
Aim Hreem Shreem Kaalratryai Namah – ॐह्रींश्रींकालरात्र्यैनमः
Om Hreem Shreem Glaum Gam Gauri Geem Namah – ॐह्रींश्रींग्लौमगमगौरीगीमनमः
Om Hreem Saha Siddhidatryai Namah – ॐह्रींसहसिद्धिदात्र्यैनमः
Number of Priests: 9
A short Video of the Sankalpa, multiple videos of the puja, mantra chanting and homa would be sent to you along with the photographs of the Puja ritual. Please provide your whatsapp number if possible for easy coordination.
Rudra Centre priests will perform Puja as per Vedic rituals based on birth details. Please mention your name, birth details/ gotra and your Sankalpa (intention) at checkout. This is group puja along with other yajaman (you may do puja on individual name or include your near and dear ones in the puja). Videos and pictures would be shared with you while the puja is live. Please share your WhatsApp number with us for easy coordination.
Puja Prasad is sent optionally with the puja.