Participate in the Mangalam Navagraha Shanti New Year Mahapuja on 26th December, to welcome the New Year, 2024 and invoke divine blessings. Offer worship to the Navagraha and seek their blessings to fill the upcoming New Year 2024 with blessings of good health, protection and prosperity for oneself, family and the world. Mangalam Navagraha Shanti New Year Mahapuja is being organized on 26th Dec 2023 on the auspicious occasion of Margashirsha Purnima. Additionally Dattatreya Jayanti, Annapurna Jayanti and Bhairavi Jayanti will also be celebrated on this day. Puja of the Navagraha is primarily done for Kasht Nivaran which is to seek relief from hardships one has to face in life due to karma and due to placement of planets. Navgraha, the nine Planets in Vedic Astrology are Surya (Sun), Chandra (Moon), Mangal (Mars), Budha (Mercury), Guru (Jupiter), Shukra (Venus), Shani (Saturn), Rahu (Ascending node) and Ketu (Descending node).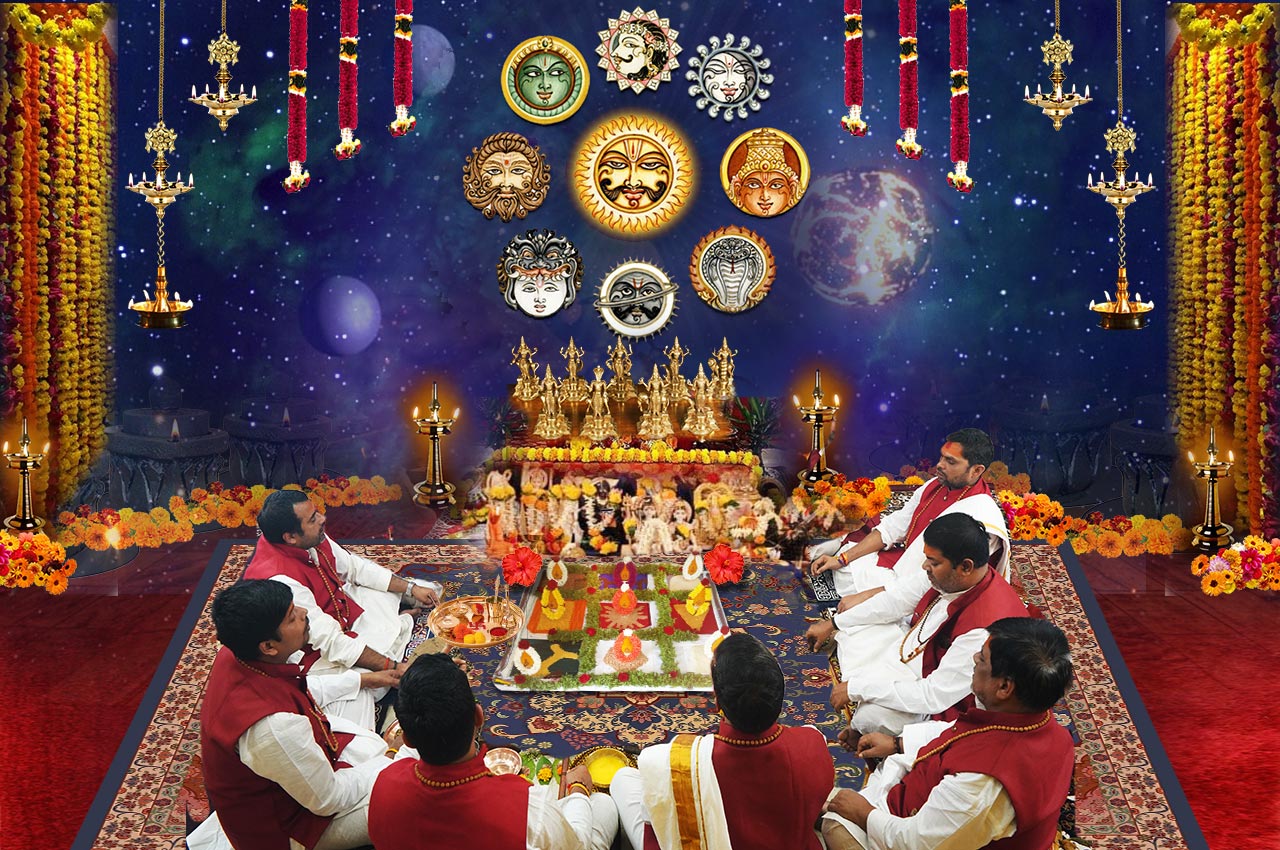 The nine Planets or cosmic bodies have been given the status of Deities and, the merits and benefits of worshipping the Navagraha are mentioned in many ancient Vedic scriptures. Navgraha Shanti Puja is done to nullify the malefic effects of various Planetary Doshas, Planetary Mahadasha or Antardasha or weakly placed Planets and to enhance the positive effects of favorably placed Planets in an individual's Birth Chart (Horoscope). Each of the Navagraha rule a different aspect of a person's life and have a different favorite color, flower, fruit, metal, gemstone, rudraksha, grain and mantra which are used during the Navagraha Shanti Puja to appease the Planets.
This is a group puja where you will be participating along with other Yajamans.
Mangalam Navagraha Shanti New Year Mahapuja Benefits:
To welcome New Year 2024 in an auspicious way and seek the divine blessings of the Navagraha
For relief from malefic effects of all planets and planetary doshas
Blessings of health, wealth, and progress in the New Year
For protection and burning of negative Karma
Remove obstacles, delays, misfortune, losses and disharmony in career or family life
Puja Service Includes: Kalash Sthapana, Panchang Sthapana(Gauri Ganesh, Punyavachan, Shodash Matrika, Navgraha, Sarvotabhadra), 64 yogini Pujan, Shetrapal Pujan, Swasti Vachan, Sankalpa, Ganesh Pujan and Abhishek, Navgraha Yantra and Idols Pujan, Invocation of major Gods in Kalash, Chanting of planetary mantra for each of the nine planets 1100 times, Hanuman Chalisa Path 108 times, Yajna, Aarti and Pushpaanjali.
Navagraha Shanti Mantra:
Sun – Om Ghrini Suryaye Namah
Moon – Om Aim Kleem Somaye Namah
Mars – Om Hoom Shreem Mangalaya Namah
Mercury – Om Braam Breem Braum Sah Budhaye Namah
Jupiter – Om Gram Greem Graum Sah Guruve Namah
Venus – Om Draam Dreem Droum Sah Shukraye Namah
Saturn – Om Sham Shanaischaryaye Namah
Rahu – Om Raam Rahve Namah
Ketu – Om Hreem Ketave Namah
Number of Priests: 7
Puja would be Live Streamed
A short Video of the Sankalpa, multiple videos of the puja, mantra chanting and homa would be sent to you along with the photographs of the Puja ritual. Please provide your whatsapp number if possible for easy coordination.
Rudra Centre priests will perform Puja as per Vedic rituals based on birth details. Please mention your name, birth details or gotra and parents name and your Sankalpa (intention) at checkout. This is group puja along with other yajaman (you may do puja on individual name or include your near and dear ones in the puja). You can watch the puja via Live streaming whose link we would send to you before the start of the puja. Videos and pictures would be shared with you while the puja is live. Please share your WhatsApp number with us for easy coordination.
Puja Prasad is sent optionally with the puja.