Participate in the most popular Puja for Shiva devotees by Rudra Centre Puja Services on the occasion of Maha Shivratri on 18th Feb 2023.
Finally the great night of Lord Shiva is here. Mahashivratri falls in the Krishna Paksha (dark fortnight) on the 13th night or 14th day of Maagha or Phalguna month(February or March). On this day, worshipping Lord Shiva and performing Rudra Abhishekam is considered supremely meritorious and beneficial. One who worships Lord Shiva with true devotion on Maha Shivratri is freed from all bondages and sins of Karma. He is blessed with spiritual augmentation, good health, harmonious relationships and abundance in all forms. In this powerful puja one Ekadash rudram will be done in each prahar, making it a total of 4 Ekadash Rudram in the entire night duration done by 11 brahmins.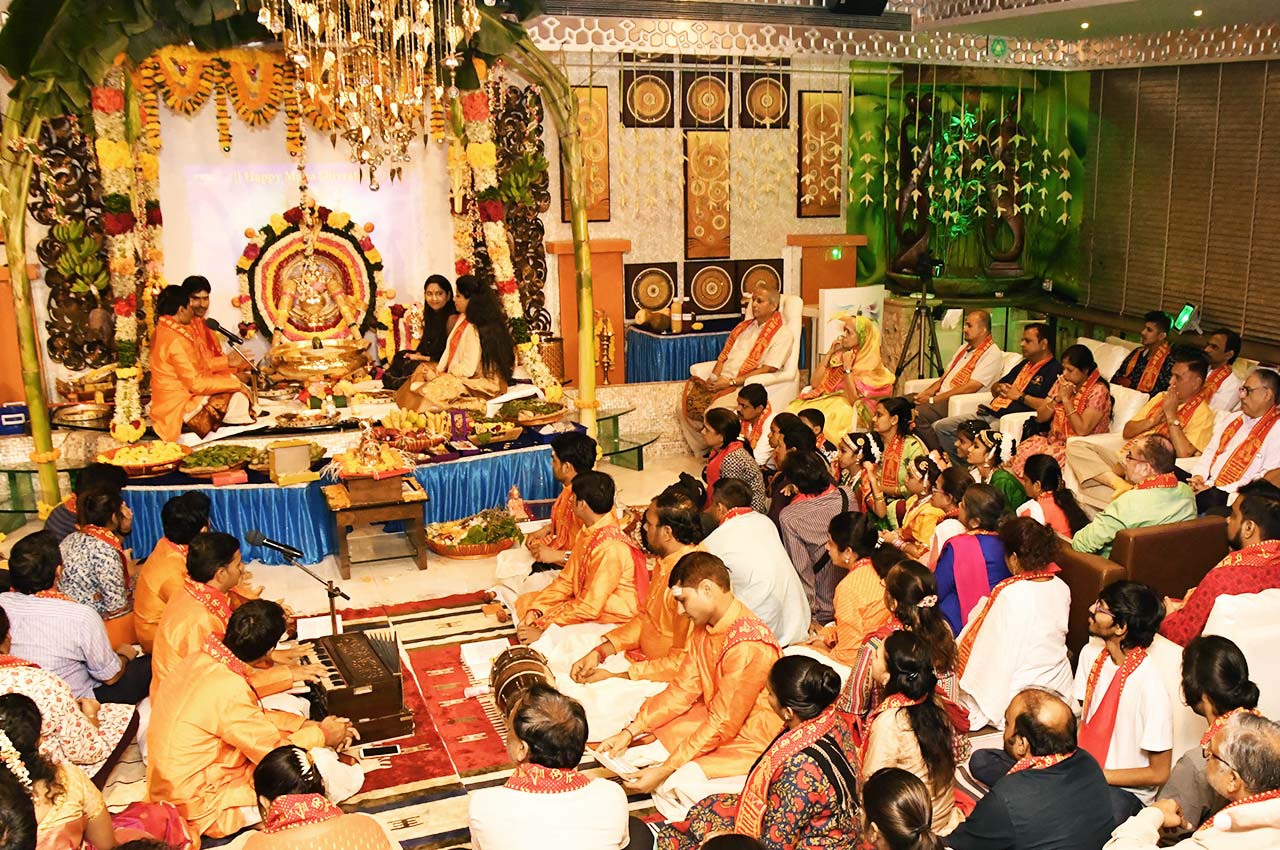 There are several legends around this festival:
On this day Lord Shiva married Parvati. So, it is a celebration of their sacred union.
On this day, Lord Shiva drank the Halahala poison that emerged from the churning of the ocean by the devas and asuras. So on this day all poison and negativities are destroyed by Lord Shiva. So devotees remain awake whole night for this process and immerse themselves in Shiva tattva.
One more legend says that on this day Goddess Ganga descended from heaven in full force and Lord Shiva caught her in his matted locks, and released her on to Earth as several streams. So for praying for this purification, this night is celebrated.
Also, it is believed that the formless Lord Sadashiva appeared in the form of a Lingodhbhav Moorthi at midnight. Hence, people stay awake all night, offering prayers to His formless, infinite form.
Rudra Centre is organizing a whole night 4 Prahar Puja on the auspicious occasion of Maha Shivaratri on 18th Feb 2023. The Maha Shivratri Puja will commence at 6:40 pm IST on 18th Feb (Saturday) with first prahar puja and will continue the whole night till next day morning till 7:05 am of fourth prahar. Abhishekam of Shiva linga with different juices, exotic herbs and fragrant liquids and Rudram chanting and recitation of Shiva strotras, Shiva Stutis and Shiva mantra japa will be performed during the entire duration of Puja
Ratri First Prahar Puja Time – 06:40 PM to 09:46 PM, Feb 18
Ratri Second Prahar Puja Time – 09:46 PM to 12:52 AM, Feb 19
Ratri Third Prahar Puja Time – 12:52 AM to 03:59 AM, Feb 19
Ratri Fourth Prahar Puja Time – 03:59 AM to 07:05 AM, Feb 19
Shivratri Maha Puja Benefits:
For divine grace and blessings of Lord Shiva
For Removal of malefic effects of various Planets
For health, wealth and prosperity
For success in career, job, business and relationships
For relief and protection against various diseases and ailments
For Spiritual upliftment
Every year, Rudra Centre conducts this puja in a grand manner. With Rudram chanting and Abhishek, Shiva stories are said, bhajans, stutis and strotras and aartis are recited and dances are performed to glorify Lord Shiva and celebrate the joyous union of Shiva and Parvati. Sakhashree Neeta would be reciting Lord Shiva stories and explaining significance of this day. Worship of Lord Shiva on this day has several multitude times more benefit than worshipping Him on any other day of the year.
Watch Video of Maha Shivratri 2018 at Rudra Centre
Watch Video of Maha Shivratri 2019 at Rudra Centre
Watch Video of Maha Shivratri 2020 at Rudra Centre
Watch Video of Maha Shivratri 2021 at Rudra Centre
Watch Video of Maha Shivratri 2022 at Rudra Centre
Join us in the group Mahapuja and be immersed in the celebration of the grandest night of union of Lord Shiva with Goddess Parvati.
Puja Service includes: Kalash Sthapana, Panchang Sthapana, 64 yogini Pujan,Shetrapal Pujan, Swasti Vachan, Sankalpa, Ganesh Laxmi Pujan and Abhishek,Navgraha Pujan and 108 chants of each planetary mantra, Invocation of majorGods and Goddesses in Kalash, Maha Rudra Abhishekam with Ekadash Rudram chanting in each Prahar, Pranav Mantra Japa 11,000 times, Maha Mrityunjaya Mantra Japa 11,000 times, Homa, pushapanjali and Aarti.
Pranav Mantra: Om Namah Shivaye


Maha Mrityunjaya Mantra: Om Tryambakam Yajamahe Sugandhim Pushti-vardhanam Urvarukamiva bandhanan Mrityor mukshiya mamritat
Number of Brahmins: 11


Duration: 12 Hours
Puja Schedule: From 6:40 PM of 18th Feb to 7:05 AM morning of 19th Feb.
Please note that these are Indian standard times.
This Puja would be Live streamed and the link would be sent to you prior to the commencement of the Puja.
A short Video of the Sankalpa, multiple videos of the puja, mantra chanting and homa would be sent to you throughout the Puja ritual. Please provide your whatsapp number if possible for easy coordination.
The Rudra Centre priests will perform the Puja based on your birth details. Please mention your birth details (name, date, place, time) and Sankalp(your wish) at checkout. You may include details of your family members in the puja.
Read more about Rudra Centre Puja Services
Puja Prasad is sent optionally with the puja.