Participate in the Laxmi Narasimha Maha Puja on the auspicious occassion of Narshimha Jayanti on 4th May, 2023 (Thursday).
In the Laxmi Narasimha Maha Puja, Lord Narasimha and Maa Laxmi are invoked for power and protection against all adversities.
Lord Narasimha is the fifth incarnation of Shrihari Vishnu. Lord Vishnu incarnated Narsingh to protect His devotee Prahlada. Lord Vishnu incarnated Narasimha as half male and half lion avatar to kill Hiranyakashipu, He is the God of power. Lord Narasimha is a fierce and powerful avatar of Lord Vishnu. Worshiping Him protects one from all kinds of miseries, crises and accidents. He blesses His devotees with relief from all issues related to enemies and opponents. Goddess Laxmi is the consort of Lord Vishu. She is the Goddess of who fulfils the true intentions that lead to dharma. She blesses devotees with progress both in the material as well as spiritual worlds. Worshipping Lord Narasimha and Goddess Laxmi together helps destroy all forces of darkness around the worshipper.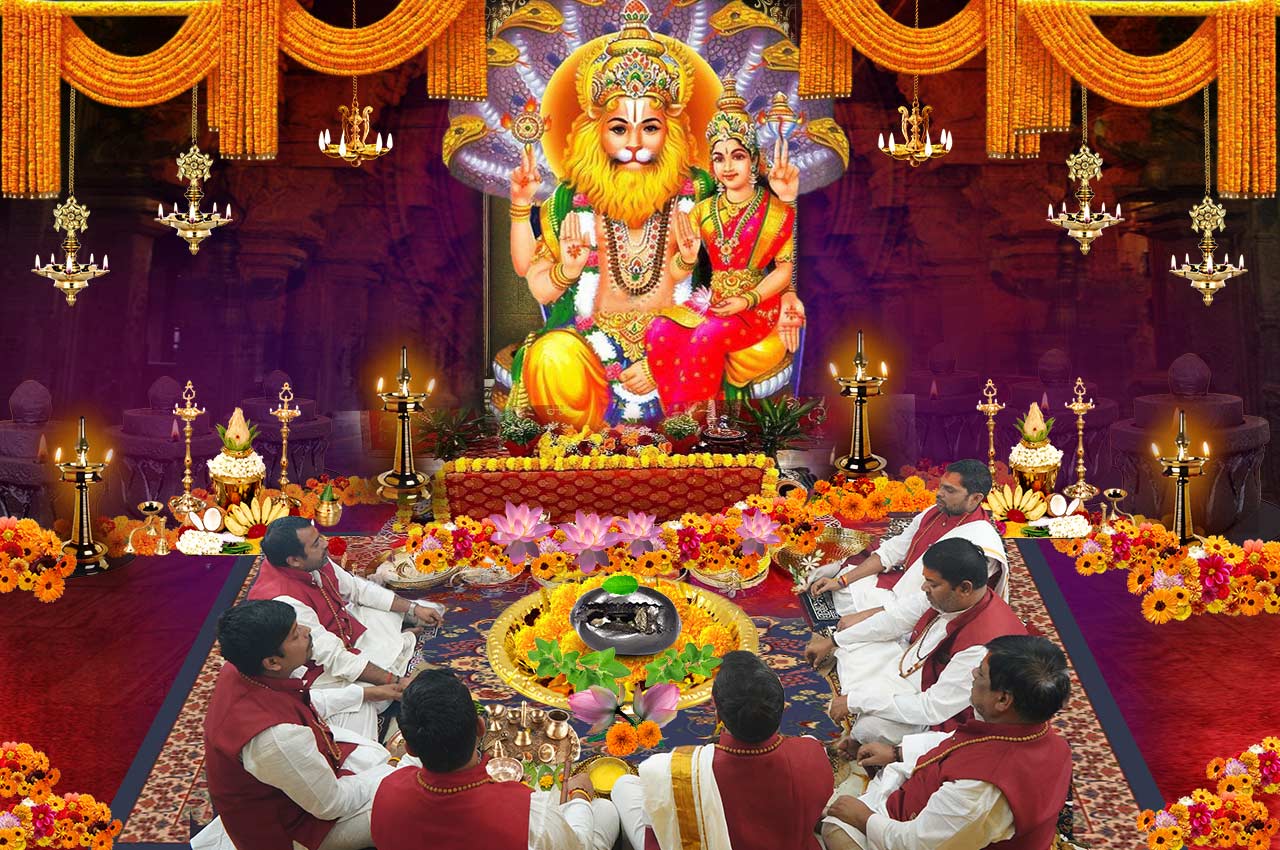 Laxmi Narasimha Maha Puja Benefits:
To overcome debts and financial difficulties.
For removal of all negativity and malefic due to seen and unseen forces
For protection against diseases and ailments
For success in court cases and legal matters

Puja service includes: Kalash Sthapana, Panchang Sthapana(Gauri Ganesh, Punyavachan, Shodash Matrika, Navgraha, Sarvotabhadra), 64 yogini Pujan, Shetrapal Pujan, Swasti Vachan, Sankalpa, Ganesh Pujan and Abhishek, Navgraha Pujan and 108 chants of each planetary mantra, Invocation of major Gods and Goddesses in Kalash, Lakshmi Narasimha Shaligram and idol Abhishek and Pujan, Recitation of Lakshmi Narasimha Kavach, Patha of Lakshmi Narasimha Ashtottara Namavali, Lakshmi Narasimha Mantra Japa 11,000 times, Yagna, Aarti and Pushpanjali.

Laxmi Narasimha Mantra: Om Aam Hrim Kshraum Krom Hum Phat

No. of Priests: 7

Puja would be Live Streamed

A short Video of the Sankalpa, multiple videos of the puja, mantra chanting and homa would be sent to you along with the photographs of the Puja ritual. Please provide your whatsapp number if possible for easy coordination.

Rudra Centre priests will perform Puja as per Vedic rituals based on birth details. Please mention your name, birth details or gotra and parents name and your Sankalpa (intention) at checkout. This is group puja along with other yajaman (you may do puja on individual name or include your near and dear ones in the puja). You can watch the puja via Live streaming whose link we would send to you before the start of the puja. Videos and pictures would be shared with you while the puja is live. Please share your WhatsApp number with us for easy coordination.

Puja Prasad is sent optionally with the puja.