Participate in Group Maa Kaali and Lord Krishna Mahapuja on the auspicious occasion of Kaali Jayanti and Krishna Janmashtami on 6th September, 2023 (Wednesday) and seek the blessing health, wealth, prosperity and spiritual growth.
Goddess Kali is the first of the ten Mahavidyas. She is one of the most powerful and popular manifestations of Maa Shakti. Goddess Kali is the fierce form of Maa Shakti. She is dark and fearsome but for Her devotees, She is the kind Divine mother and the supreme protector. As per scriptures Lord Brahma, Vishnu, Indra, Yama and Ravana worshiped Her. The word Kali is derived from the word Kaal or time, the name signifies that Maa Kali is the one who is ruler of time in the Kali yuga. She is the one who blesses Her devotees with worldly pleasures and finally salvation. She is primarily worshiped to destroy miseries, enemies and diseases and to protect against negative energies and planetary malefic effects. By grace of divine mother Kali, the devotees banishes darkness and enters the region of light of true knowledge.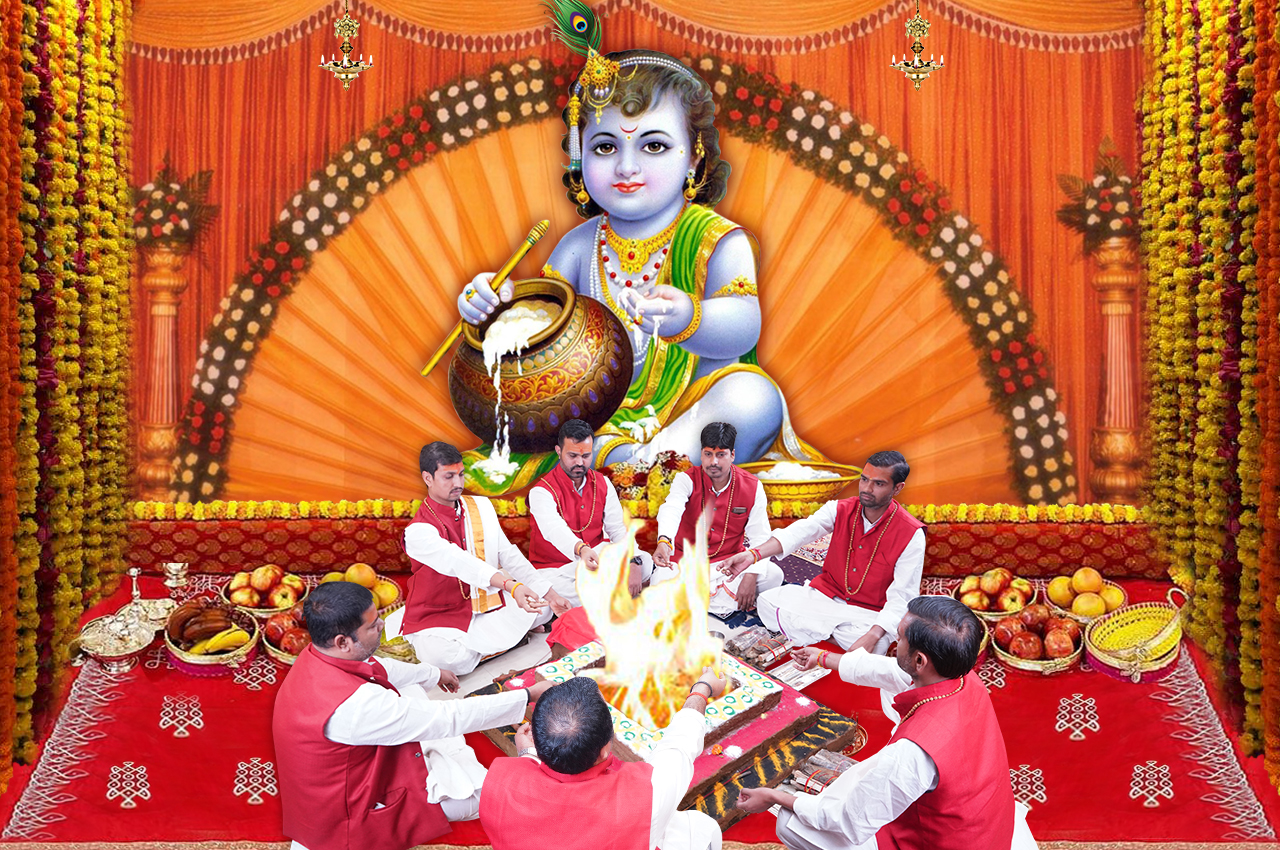 Kali Maha Puja Benefits:
Blessings of power, prosperity and success
Relief from all miseries. misfortunes and planetary malefic effects
For Spiritual growth and salvation
For seeking of divine grace and blessings of Maa Kali 
Kali Mantra: Om Kreem Kalike Svaha॥ ऊँ क्रीं कालिके स्वाहा
Krishna Janmashtami is the most revered day for all Lord Krishna devotees as it is the birthday of Lord Krishna and this year it falls on 6th of September 2023 in the auspicious month of Shravan. On this day, Lord Vishnu in the Dwapar Yug took his eighth avatar (incarnation) on the planet as Krishna to establish Dharma. Lord Krishna killed Kansa and liberated Dwarka from his cruel hands. Lord Krishna is a friend, guide, lover, child (Bal Gopal), Supreme Being and God for his devotees. Lord Krishna mesmerizes his devotees by his charisma; he teaches them to walk on the path of truth and love and live to the fullest. The Omnipotent and Omnipresent Lord Krishna provides enlightenment to the mankind and reveals Srimad Bhagavad-Gita and his Vishwaroopa to Arjuna during Mahabharata.
Benefits of Krishna Janmashtami Puja (As per Puranas):
For invoking the blessings of Lord Krishna
For increasing charisma, confidence and individuality
For success and growth in career, education and business
For empowerment, peace of mind and protection
For good health and longevity
For Spiritual growth and devotion
Krishna Mantra: Om Kleem Krishnaye Namah
This is a group puja done along with other Yajamans.
Kaali Jayanti and Krishna Janmashtami Mahapuja Service Includes:
Kalash Sthapana, Panchang Sthapana(Gauri, Ganesh, Shodash Matrika, Navgraha, Sarvotabhadra), 64 yogini Pujan, Shetrapal Pujan, Swasti Vachan, Sankalpa, Ganesh Laxmi Pujan and Abhishek, Navgraha Pujan and 108 chants of each planetary mantra, Puja of major Gods and Goddesses, Abhishek and Puja of Goddess Kali devi, Goddess Kali mantra Jaap, Kali Kavach, Strotra, Stuti recitation, Pushpaanjali, Invocation of major Gods and Goddesses in Kalash, Japa of Krishna Mantra 11,000 times, Japa of Krishna Sahasranamam 101 times, Srimad Bhagwad Gita Paath, Placing and worship of Bal Gopal in Paalna (swing) followed by Puja, Aarti and Havan to complete the rituals.
No. of Priests: 7
Puja would be Live Streamed
A short Video of the Sankalpa, multiple videos of the puja, mantra chanting and homa would be sent to you along with the photographs of the Puja ritual. Please provide your whatsapp number if possible for easy coordination.
Rudra Centre priests will perform Puja as per Vedic rituals based on birth details. Please mention your name, birth details or gotra and parents name and your Sankalpa (intention) at checkout. This is group puja along with other yajaman (you may do puja on individual name or include your near and dear ones in the puja). You can watch the puja via Live streaming whose link we would send to you before the start of the puja. Videos and pictures would be shared with you while the puja is live. Please share your WhatsApp number with us for easy coordination.
Puja Prasad is sent optionally with the puja.