Participate in Kaal Bhairav Mahapuja on 5th Dec, 2023 (Tuesday) on the auspicious occasion of Kaal Bhairav Jayanti and get blessings of protection, health, success and spiritual growth.
Kaal Bhairav is the ruler of time. Worshipping Him, removes the illusion of time and makes the devotee fall in the bliss of the Truth of the present moment. He is also the ruler of Rahu Graha. Worshipping Lord Kaal Bhairav is very auspicious and meritorious as He blesses His devotees with wish fulfilment, protection against all negativities, spiritual progress, health, success, prosperity and relief from malefic effects of Rahu. Kaal Bhairav Jayanti is the day of His birth and invoking Him on this day gives results equivalent to worshipping Him the entire year.

Lord Kaal Bhairav is the fiercest manifestation of Lord Shiva. He is the consort of Maa Bhairavi, one of the ten Mahavidyas. As per Shiva Purana, Lord Shiva took manifestation of Kaal Bhairav to cut-off the fifth head of Lord Brahma to free Lord Brahma of His ego.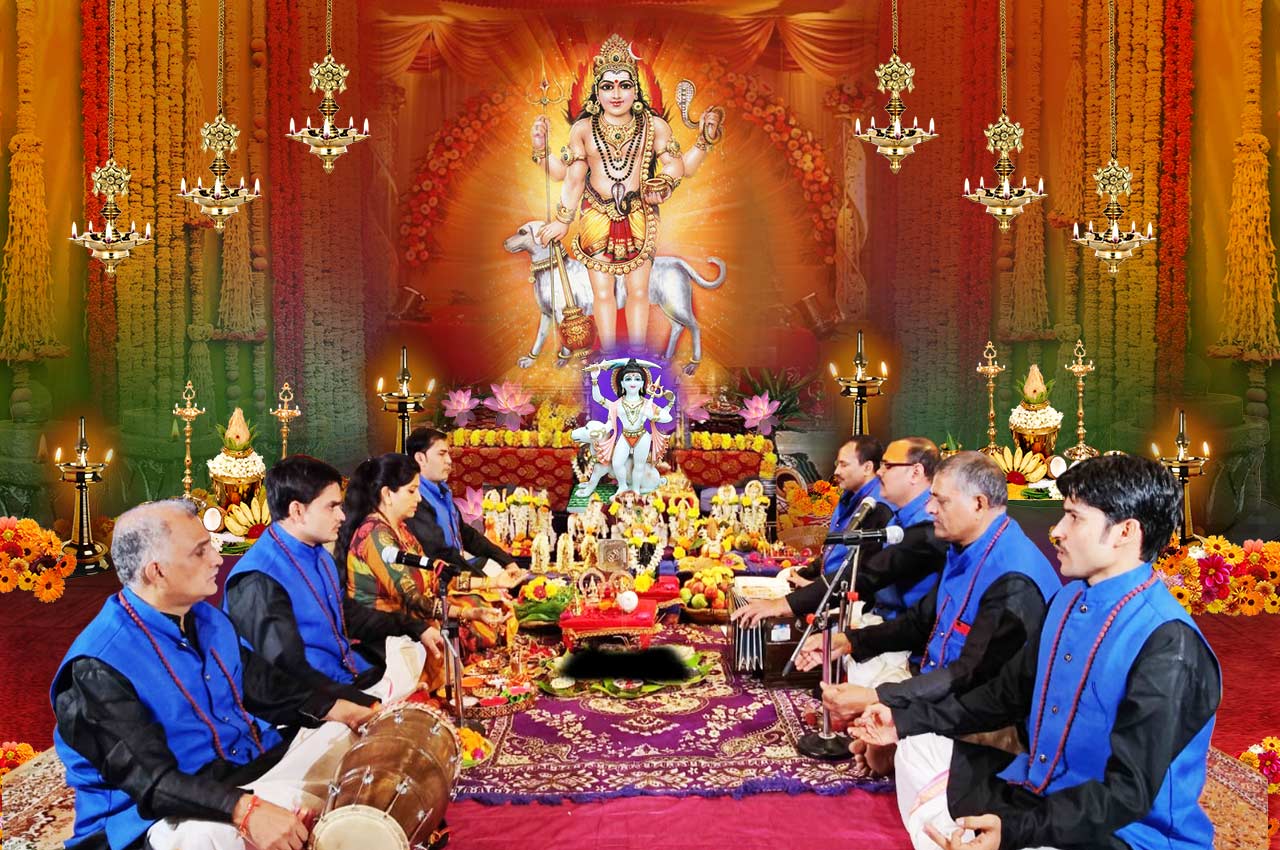 In this form, He vanquished demons and asuras. When Maa Sati couldn't bear the insult of Lord Shiva at her father Daksha's Yagna and jumped in the fire, Lord Shiva in rage took the form of Kaal Bhairav and killed the entire army of Daksha and beheaded him. A grieved Lord Shiva then took the corpse of Maa Sati on His shoulder and started doing Tandava which is the dance of destruction. The Devas prayed to Lord Vishnu for help and He used His Sudarshan Chakra to cut the body of Maa Sati in many parts which fell at various places of the earth. Wherever the parts fell there is a Shakti Peeth temple where Maa Sati is worshipped today. Lord Kaal Bhairav is the guardian Deity of all Shakti Peethas and He is worshipped along with Maa Shakti in these temples.
His seat is said to be the popular Kaal Bhairav Temple, Ujjain and He is said to be the Kotwal(guardian deity) of this city. The ancient temple believed to be more than 6000 years old is located on the banks of river Shipra and has been mentioned in Vedic scriptures such as the Skanda Purana. As per legends Lord Mahakaal Himself appointed Kaal Bhairav as the protector of the city. What makes the Shree Kaal Bhairav Temple of Ujjain famous and unique is the custom of devotees offering liquor to the President Deity Lord Kaal Bhairav with special mantras. Here the liquor is poured in a saucer by the temple priest and offered to the Lord by placing the saucer near lips of the Deity, which has a slit. With a little tilt of the plate, the liquor starts disappearing. None have been yet able to locate where the liquor goes, thus it is a mystery but it is believed that Lord Kaal Bhairava Himself consumes.
Traditionally Shaivites of the Kapalika and Aghora sects worship Lord Kaal Bhairav through tantra worship.
For all participants of this Mahapuja, a short Bhairav Puja with 2.5 saucer of Madira (Liquor) would be offered at Kaal Bhairav Temple, Ujjain and video would be sent to you. An elaborate Mahapuja would be done in Rudra Centre puja services temple.
Kaal Bhairav Mahapuja benefits:
Blessings of supreme protection against all negativities such as black magic and evil eye
For health, wealth, prosperity and wish fulfillment
Destruction of ego and progress in one's spiritual journey
For Divine grace and blessings of Lord Kaal Bhairav
This is a group puja done along with other Yajaman.
Puja Service Includes: Kalash Sthapana, Panchang Sthapana (Gauri Ganesh, Punyavachan, Shodash Matrika, Navgraha, Sarvotabhadra), 64 yogini Pujan, Shetrapal Pujan, Swasti Vachan, Sankalpa, Ganesh Laxmi Pujan and Abhishek, Navgraha Pujan and 108 Japa of each planetary mantra, Invocation of major Gods and Goddesses in Kalash, Abhishek and Pujan of Bhairav Idol and Yantra, Kaal Bhairav Ashtakam recitation – 11 times, Kaal Bhairav Mantra Japa 11,000 times, Homa, Aarti and Pushpanjali
Kaal Bhairav Mantra:
Om Hum Shum Num Gum Kum Sum Khum Mahakal Bhairavay Namah
ॐ हं षं नं गं कं सं खं महाकाल भैरवाय नम:॥
Number of Priests: 7
Puja would be Live Streamed:
A short Video of the Sankalpa, multiple videos of the puja, mantra chanting and homa would be sent to you along with the photographs of the Puja ritual. Please provide your whatsapp number if possible for easy coordination.
Rudra Centre priests will perform Puja as per Vedic rituals based on birth details. Please mention your name, birth details or gotra and parents name and your Sankalpa (intention) at checkout. This is group puja along with other yajaman (you may choose to include your family members in the puja). You can watch the puja via Live streaming whose link we would send to you before the start of the puja. Videos and pictures would be shared with you while the puja is live. Please share your WhatsApp number with us for easy coordination.
Puja Prasad is sent optionally with the puja.