Participate in Ganesh Chaturthi Maha Puja on 19th Sept, 2023 (Tuesday) and seek the blessings of the Lord of auspicious beginnings for wisdom, success and prosperity.
The Lord of new beginnings is set to arrive now. Ganesh Chaturthi is celebrated as the birth anniversary of Lord Ganesh and it falls in Shukla paksha in Bhadrapada month. This year it falls on 19th Sept, 2023 (Tuesday).
It is celebrated as the arrival of Ganesh to earth from Kailash Parvat with his mother Goddess Parvati/Gauri. The festival celebrates Lord Ganesh as the God of New Beginnings as well as the god of wisdom and intelligence and is observed throughout India and by the Hindu diaspora elsewhere all over the world.
Lord Ganesh is known to protect His devotees from all the Vighna (hurdles/obstacles) that come in their life. He is worshipped for Buddhi (intellect), Siddhi (spiritual powers), and Riddhi (prosperity). Lord Ganesha has all the five elements under His control. He is the embodiment of all potencies. He has no superior above Him. He is the Pranava Swarupa -embodiment of Aum. Hence, the first prayer is always addressed to Him.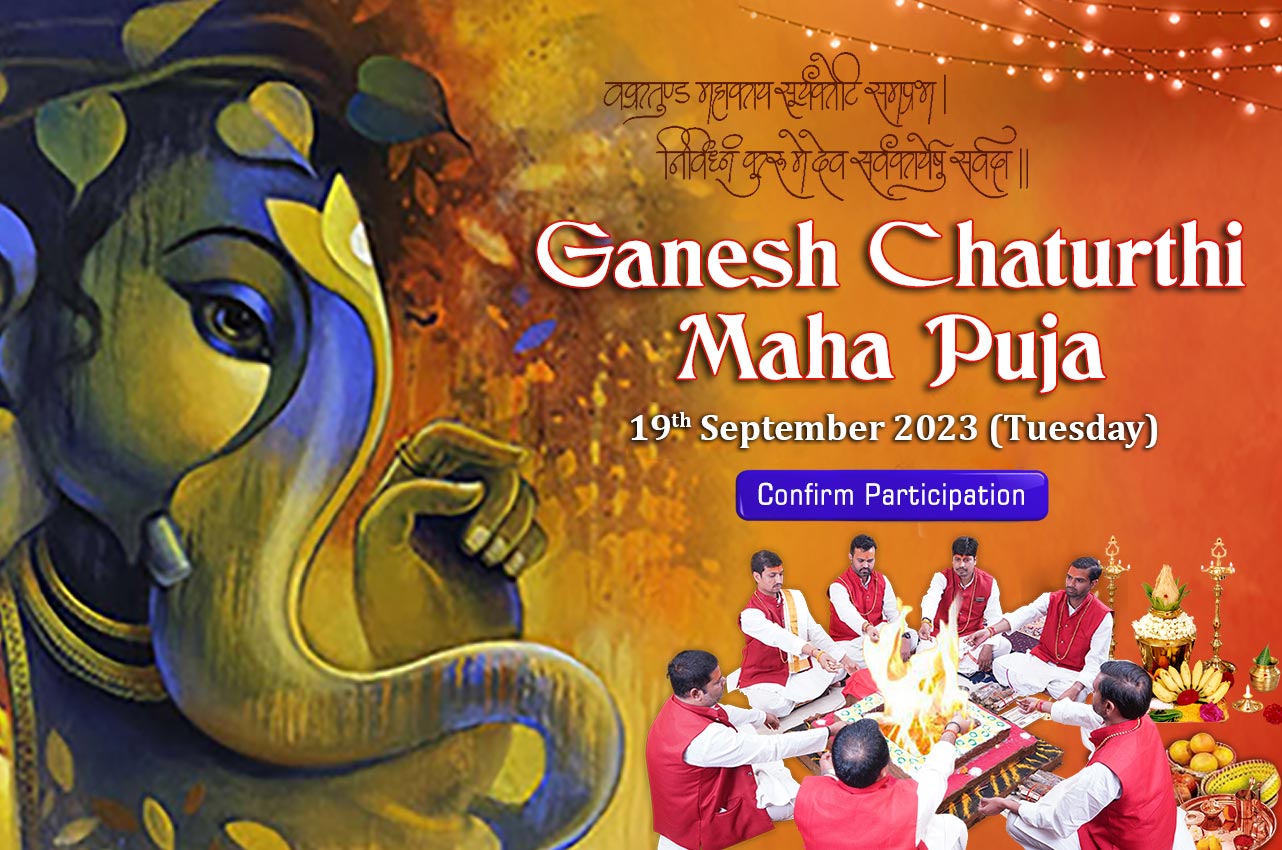 This is a group puja done along with other Yajaman. An Eco friendly Lord Ganesh idol would be installed and all rituals of Pranapratishhtha, Shhodashopachara, Uttarpuja, and Ganpati Visarjan would be performed on it and pictures and videos shared with you.
Ganesh Chaturthi Mahapuja Benefits:
For removal of obstacles and delays
For auspiciousness and success in ventures
For stability in life
For wisdom and intelligence
For divine grace of Lord Ganesh
Puja service includes: Kalash Sthapana, Panchang Sthapana (Gauri Ganesh, Punyavachan, Shodash Matrika, Navgraha, Sarvotabhadra), 64 yogini Pujan, Shetrapal Pujan, Swasti Vachan, Sankalpa, Navgraha Pujan and 108 chants of each planetary mantra, Invocation of major Gods and Goddesses in Kalash, Ganesh Pujan and Abhishek, Recitation of Ganpati Atharvasheesh Stotra (101 times), Ganpati mantra Japa 11,000 times, Bhajan, Stuti, Homa, Aarti and Pushpaanjali.
Ganpati Mantra: Om Gum Ganapataye Namaha
ॐ गं गणपतये नमः
Number of Priests: 7


A short Video of the Sankalpa, multiple videos of the puja, mantra chanting and homa would be sent to you along with the photographs of the Puja ritual. Please provide your whatsapp number if possible for easy coordination.
Rudra Centre priests will perform Puja as per Vedic rituals based on birth details. Please mention your name, birth details or gotra and parents name and your Sankalpa (intention) at checkout. This is group puja along with other yajaman (you may do puja on individual name or include your near and dear ones in the puja). You can watch the puja via Live streaming whose link we would send to you before the start of the puja. Videos and pictures would be shared with you while the puja is live. Please share your WhatsApp number with us for easy coordination.
Puja Prasad is sent optionally with the puja.