Participate in the Diwali Mahapuja on the auspicious occasion of Deepavali on 12th Nov, 2023 (Sunday)
Diwali, the festival of lights is celebrated on the new moon of Kartik month. It represents the 'victory of light over darkness, knowledge over ignorance, good over evil and hope over despair. It is biggest festival of the Hindus and brings abundance, prosperity, purity, auspiciousness, joy and cheer.
The festival of Diwali will be celebrated this year on 12th Nov, 2023 (Sunday). Goddess Lakshmi, Ganesha and Saraswati are worshipped on this day along with Lord Vishnu and Kuber. Diwali festival marks the conjunction of Sun and Moon in the Libra sign which is considered very auspicious.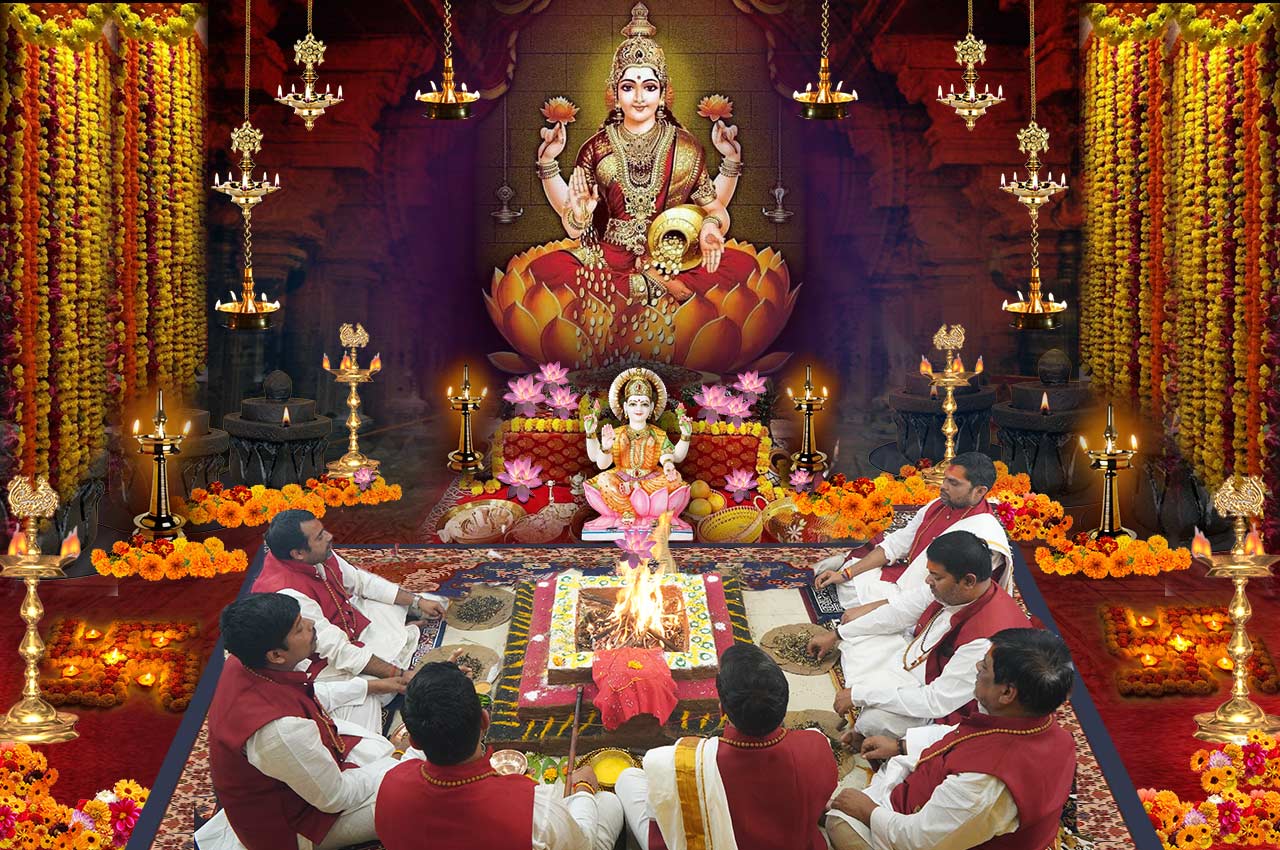 There are different stories behind the celebration of Diwali. Lord Shri Ram returned to Ayodhya on Kartik Amavasya after spending fourteen years of exile and killing Ravan. On this day, Lord Krishna killed the tyrannical king Narakasura, Vishnu killed Hiranyakashipu by taking the form of Narasimha and on this day Lakshmi and Dhanvantari appeared after churning of the ocean.
According to Jains, the twenty-fourth Tirthankar, Mahavir Swami attained salvation on this day. Diwali is also important for the Sikhs as it was on this day that the foundation stone of the Golden Temple in Amritsar was laid in 1577. This festival is great for Nepalis because from this day the new year begins in Nepal Samvat. For Hindus, it is the first day of New Year in Vikram samvat. On this day traders change their books of account and prepare profit and loss statement.
According to the Brahmapuran, on this dark night of Kartik Amavasya, Mahalakshmi Herself comes to Bhuloka and roams in every house. She stays in the house which is clean, pure and beautifully decorated and illuminated in every way. The one who prays to Her on this day, is sure to receive Her grace throughout the year.
Blessings of this Puja:
For wealth and new opportunities
For success and removal of obstacles
For happy and harmonious family life
For blessings of Laxmi, Ganesh and Saraswati
Puja Services Includes: Kalash Sthapana, Panchang Sthapana(Gauri Ganesh, Punyavachan, Shodash Matrika, Navgraha, Sarvotabhadra), 64 yogini Pujan, Shetrapal Pujan, Swasti Vachan, Sankalpa, Ganesh Pujan and Abhishek, Navgraha Pujan and 108 chants of each planetary mantra, Invocation of major Gods and Goddesses in Kalash, Ganesh Laxmi Saraswati abhishek and pujan, Vishnu Pujan with Vishnu Stuti, Kuber Pujan with Kuber mantra japa, Recitation of Ganesh Atharvashirsha, Sri Suktam, Saraswati strotra, Lakshmi Stotra, Kanakdhara Strotra. Prayers to books, coins, silver, gold and other forms of wealth, offerings to Laxmi of Her favourite flowers, fruits, sweets and shells, Lakshmi Mantra Japa 11,000 times, Homa, Aarti and Pushpaanjali.
Laxmi Mantra: ॐ ह्रीं श्रीं लक्ष्मीभयो नमः॥
Om Hreem Shreem Lakshmibhyo Namah॥
This is a group puja done along with other Yajaman.
Number of Priests: 7
Puja would be Live Streamed
A short Video of the Sankalpa, multiple videos of the puja, mantra chanting and homa would be sent to you along with the photographs of the Puja ritual. Please provide your whatsapp number if possible for easy coordination.
Rudra Centre priests will perform Puja as per Vedic rituals based on birth details. Please mention your name, birth details or gotra and parents name and your Sankalpa (intention) at checkout. This is group puja along with other yajaman (you may include your near and dear ones in the puja). You can watch the puja via Live streaming whose link we would send to you before the start of the puja. Videos and pictures would be shared with you while the puja is live. Please share your WhatsApp number with us for easy coordination.
Puja Prasad is sent optionally with the puja.