Book Akshaya Tritiya Maha Puja on the auspicious occasion of Akshaya Tritiya on 22nd April 2023 (Sat)
Akshaya Tritiya is said to the most auspicious day of the year. Any charity or good act performed, or precious item purchased or puja conducted on this day never diminishes and continues to grow or appreciate. It is day is ruled by Lord Vishnu. He is worshipped along with Laxmi and Kuber on this day.
According to Hindu mythology, this day heralds the beginning of Treta Yuga. On this day and night, the Sun and the Moon are at their radiant best, which astrologically is considered an auspicious occasion. It is said to be the day when Lord Parashurama was born, when Lord Ganesha started writing Mahabharata, when Sudama received the gift of abundance from Lord Krishna, when Goddess Annapurna was born, when Kuber was appointed the custodian of wealth and when the sacred river Ganges descended from the heavens. On this day Lord Parashurama Jayanti is also celebrated, Lord Parashurama is the sixth incarnation of Lord Vishnu.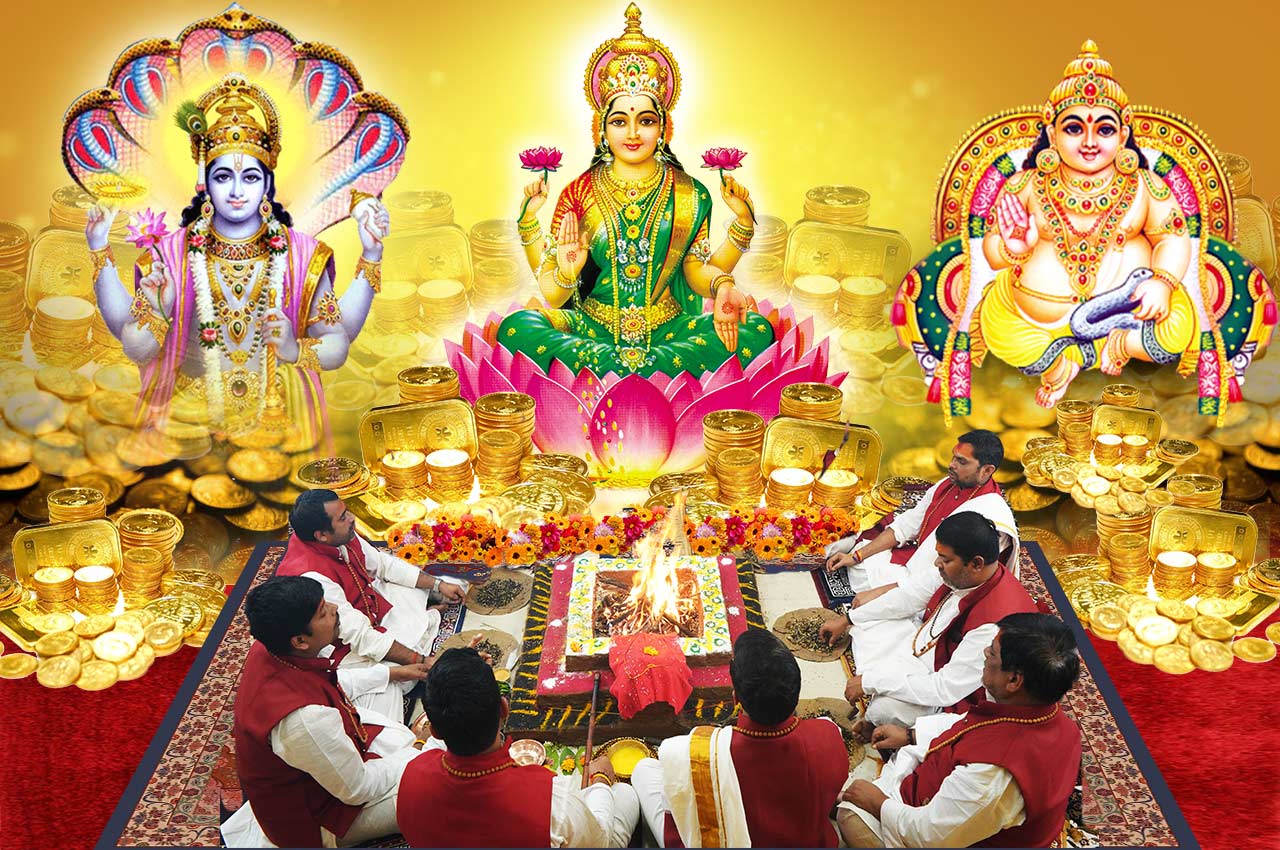 We invite you to participate in this grand group puja done along with other yajamans.
Akshaya Tritiya Maha Puja Benefits:
For divine grace of Vishnu, Laxmi and Kuber
For undiminishing wealth and good fortune
For success in career with name and fame
For spiritual upliftment and desire fulfilment
Puja services includes: Kalash Sthapana, Panchang Sthapana(Gauri Ganesh, Punyavachan, Shodash Matrika, Navgraha, Sarvotabhadra), 64 yogini Pujan, Shetrapal Pujan, Swasti Vachan, Sankalpa, Ganesh Laxmi Pujan and Abhishek, Navgraha Pujan and 108 chants of each planetary mantra, Invocation of major Gods and Goddesses in Kalash, 64 yogini Pujan, Shetrapal Pujan, Kuber, Laxmi and Vishnu idols abhishek and pujan, recitation of Asthalaxmi strotram, Vishnu Sahasranama, Kuber Strotra 21 times, Laxmi Suktam 21 times, Vishnu Shantakaram mantra japa 2100 times, Yagna, Aarti and Pushpaanjali.
Vishnu Shantakaram Mantra:
Shantakaram Bhujagashayanam Padmanabham Suresham
Vishvadharam Gaganasadrisham Meghavarnam Shubhangam।
Lakshmikantam Kamalanayanam Yogibhirdhyanagamyam
Vande Vishnum Bhavabhayaharam Sarvalokaikanatham॥
Number of Priests: 7
Puja would be Live Streamed
A short Video of the Sankalpa, multiple videos of the puja, mantra chanting and homa would be sent to you along with the photographs of the Puja ritual. Please provide your whatsapp number if possible for easy coordination.
Rudra Centre priests will perform Puja as per Vedic rituals based on birth details. Please mention your name, birth details or gotra and parents name and your Sankalpa (intention) at checkout. This is group puja along with other yajaman (you may do puja on individual name or include your near and dear ones in the puja). You can watch the puja via Live streaming whose link we would send to you before the start of the puja. Videos and pictures would be shared with you while the puja is live. Please share your WhatsApp number with us for easy coordination.
Puja Prasad is sent optionally with the puja.