Don't miss booking Akhand Ramayan Mahapuja on the occasion of Hanuman Jayanti falling on 6th April, 2023 (Thursday).
Akhand Ramayan Path is the non stop recital of Ramcharit manas for 24 hours which is sung melodiously with traditional instruments. In Ramayan, each of the verse (chaupaayee, doha, soratha and chhhands) are so melodious and beautifully composed and it can be said without doubt that nowhere in the world literature such a verse creation has been done. The entire text includes seven kaands i.e. Baalkand, Ayodhyakand, Aranyakand, Kishkindhakand, Sundarkand, Lankakand and Uttarkand. Each of the kaands depicts different stages and leelas of lord Shri Ram.
Performing the Akhand Ramayana path brings auspiciousness and removes obstacles in one's life and steers one towards success and growth. There are immense benefits of readings this epic which are described in the book. Read here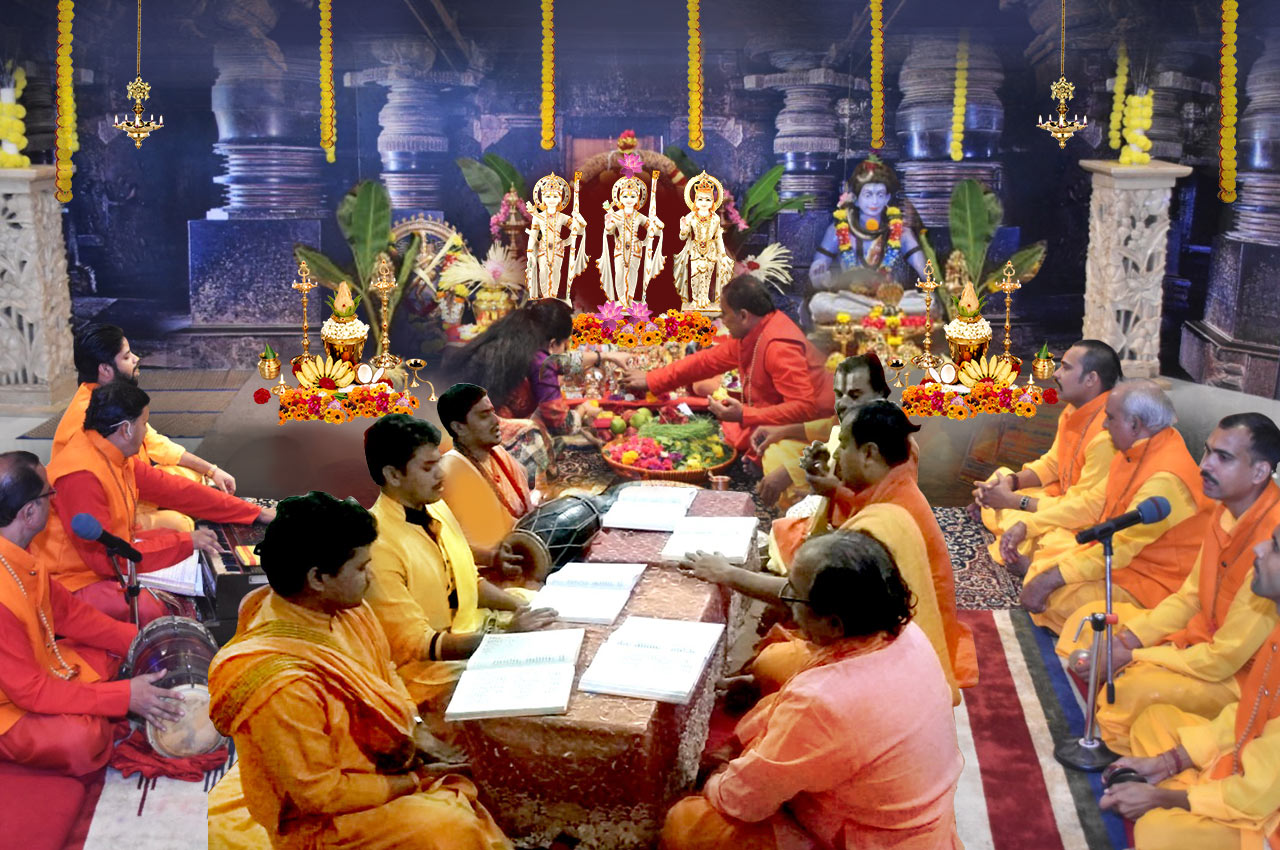 Anyone who gets the Akhand Ramayana path done with a specific intention in mind is blessed with its fulfillment with the grace of Lord Rama.
The Akhand Ramayan Path is performed for divine grace and blessings of Lord Ram and Lord Hanuman. Lord Ram is the seventh incarnation of Lord Vishnu. Lord Ram was born in the Treta Yug to King Dasharatha and Queen Kausalya of Ayodhya. Lord Rama taught the world to walk the righteous path even during testing and trying times. Worshipping Lord Rama leads to happiness, peace, prosperity and blessings of lord Hanuman as he is the greatest devotee of Lord Rama. The Akhand Ramayan Paath would be conducted on the auspicious occasion of Hanuman Jayanti and Chaitra Purnima which will be celebrated on 6th April, 2023 (Thursday) this year.
Akhand Ramayan Paath benefits:
Brings blessings of truth, courage and righteousness in all endeavours
Protects against any danger from evil and unknown forms and forces.
Solidifies one's goal or intention and brings it to guaranteed success.
Brings success in professional life with name and fame.
Steers the worshipper on path of spiritual growth.
Akhand Ramayan Paath includes: Kalash Sthapana, Panchang Sthapana (Gauri Ganesh, Punyavachan, Shodash Matrika, Navgraha, Sarvotabhadra), 64 yogini Pujan, Shetrapal Pujan, Swasti Vachan, Sankalpa, Ganesh Laxmi Pujan and Abhishek, Navgraha Pujan and 108 chants of each planetary mantra, Invocation of major Gods and Goddesses in Kalash, Ram Parivar Abhishek and Pujan, , Tulsi archan with Shri Ram Raksha strotra, Japa of Ram Raksha mantra, Ram Charit manas pujan and path, Yagna, Aarti and Pushpaanjali
Ram Raksha mantra: Rama Rameti Rameti, Rame Raame Manorame; Sahasrenama tattulyam, Rama Nama Varanan
Number of Priests: 4 teams of 5 pundits each
The entire 24 hours Puja would be Live Streamed
Puja Tokri having energised Ram Raksha Yantra, Ram Locket, Silver Ram Parivar Frame, Mauli and Sweet Prasad, would be sent along.
Video of the Sankalpa, multiple videos of the puja, mantra chanting and homa would be sent to you along with the photographs of the Puja ritual through the puja duration. Please provide your whatsapp number if possible for easy coordination.
Rudra Centre priests will perform Puja as per Vedic rituals based on birth details. Please mention your name, birth details or gotra and parents name and your Sankalpa (intention) at checkout. This is group puja along with other yajaman (you may do puja on individual name or include your near and dear ones in the puja). You can watch the puja via Live streaming whose link we would send to you before the start of the puja.
Videos and pictures would be shared with you while the puja is live.