Book Shani Jayanti Maha Puja on 19th May 2023 on the occasion of Shani Jayanti.
Shani Jayanti is celebrated as the birth anniversary of the Lord Shani, who is the son of Lord Surya, He rules the planet Saturn and a day of the week which is Saturday. The festival is also known as Shani Amavasya and falls on the Vaishak Vaidya Chaturdashi Amavasya. He is revered as the God of Justice and he delivers results to all, depending upon their thoughts, speech and deeds. He significates spiritual asceticism, penance, discipline and hard work.
Saturn (Shani) is largely considered a naturally malefic negative planet. It is known as a slow moving planet that is a strict disciplinarian that confers success only through continuous effort, consistent discipline, hurdles and struggles.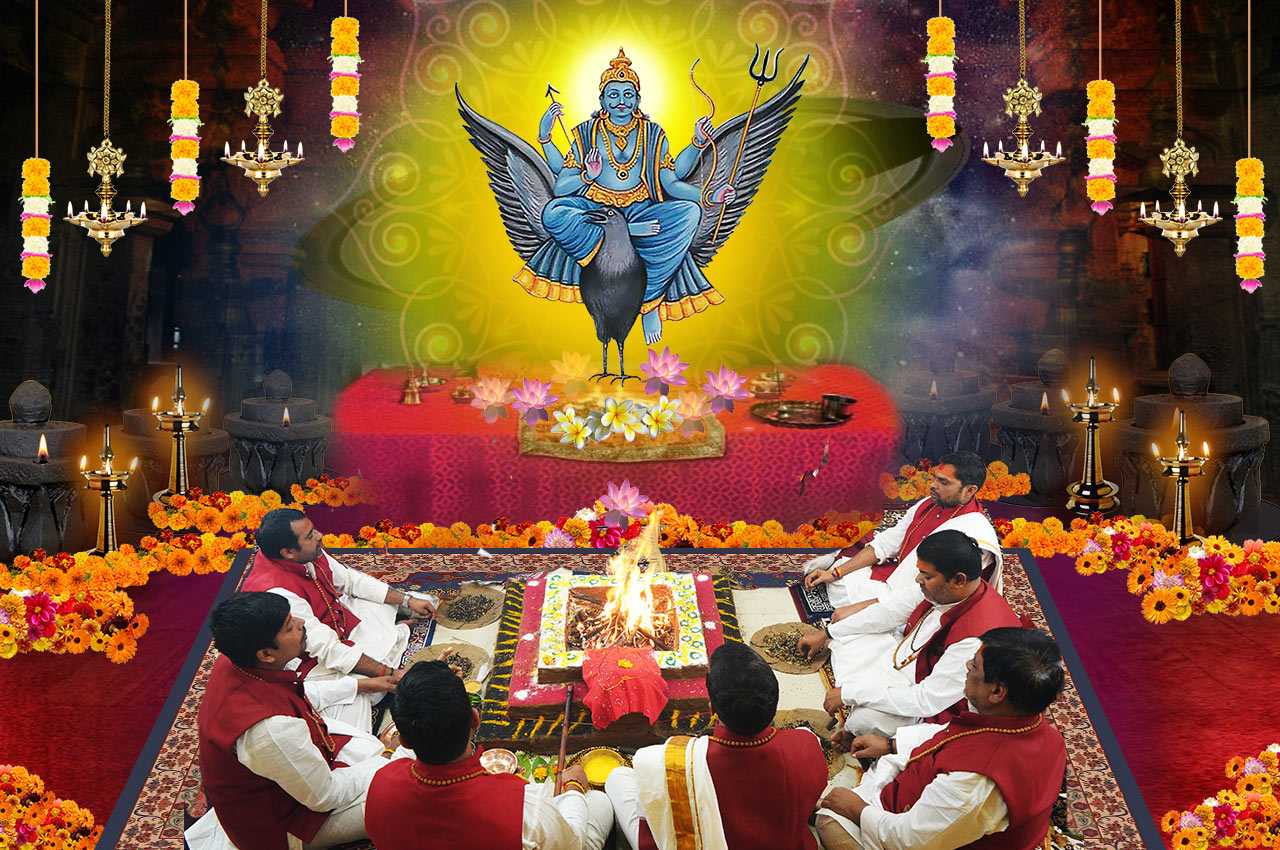 Shani Dev is known as the Karmakaraka, the God who gives justice to everyone based on their Karma. A horoscope afflicted by Shani or under Sade Sati of Shani suggests disputes, delays, diseases, struggles, disharmony, and bad decisions in the life of that person during the affliction period. On the other hand, when placed favourably in a person's birth chart, Shani brings longevity, land, wealth, and fame. It is earnest prayer to planet Shani, that will help a person sail through life with support and success.
This is a group puja done along with other Yajamans.
Shani Jayanti Maha Puja Benefits:
For relief from malefic Saturn or Saturn cycle in astrology chart
For those going through bad luck and misfortunes
For mitigating effects of karma
For getting favourable results of good deeds
For success in business and ability to reach great heights
Puja service includes: Kalash Sthapana, Panchang Sthapana(Gauri Ganesh, Punyavachan, Shodash Matrika, Navgraha, Sarvotabhadra), 64 yogini Pujan, Shetrapal Pujan, Swasti Vachan, Sankalpa, Ganesh Pujan and Abhishek, Navgraha Pujan and 108 chants of each planetary mantra, Invocation of major Gods and Goddesses in Kalash, Shani Idol and Yantra Abhishek and Pujan, recitation of Shani Strotra and Shani Kavach, recitation of Hanuman Chalisa 108 times, Chanting of Shani long Mantra 1100 times, Chanting of Shani Japa Mantra 19,000 times, Havan (including 108 ahutis of Shami wood), Aarti, Pushpanjali and Brahmin Bhojan.
Shani Long Mantra
Nilanjana Samabhasam Ravi Putram Yamagrajam
Chaya Martanda Sambhutam Tam Namami Shanescharam
Meaning:
I bow down to Lord Shani Dev who is effulgent as that of a blue mountain. He is the son of Lord Surya (sun god) and the brother of Yama (god of death). He is born to Chaya and Martanda (another name of sun god).
Shani Japa Mantra
ॐ शं शनैश्चराय नम:। ||
Om Sham Shanaishcharaya namah ||.
Number of Priests: 7
Puja would be Live Streamed
A short Video of the Sankalpa, multiple videos of the puja, mantra chanting and homa would be sent to you along with the photographs of the Puja ritual. Please provide your whatsapp number if possible for easy coordination.
Rudra Centre priests will perform Puja as per Vedic rituals based on birth details. Please mention your name, birth details or gotra and parents name and your Sankalpa (intention) at checkout. This is group puja along with other yajaman (you may do puja on individual name or include your near and dear ones in the puja). You can watch the puja via Live streaming whose link we would send to you before the start of the puja. Videos and pictures would be shared with you while the puja is live. Please share your WhatsApp number with us for easy coordination.
Puja Prasad is sent optionally with the puja.