Worship the Navdurga with Nav Durga Maha Pujan and Yagya on the occasion of Chaitra Navratri 22nd March, 2023.
Nav Durga represents nine forms of Goddess. These nine forms of Maa Durga are Shailaputri, Brahmacharini, Chandraghanta, Kushmanda, Skandamata, Katyayani, Kalaratra, Mahagauri and Siddhidaatri. The nine forms of Goddess Durga are especially worshipped during the Navratri (Nine Divine Nights) festival each year. The three major forms in which Goddess Durga manifested herself, namely, Maha Saraswati, Mahalakshmi and Mahakaali are the active energies (Shakti) of Brahma, Vishnu and Rudra respectively. These three forms of Durga further manifested in three more forms each, and thus emerged the nine forms of Durga, which are collectively called Navadurga or Nine Durgas.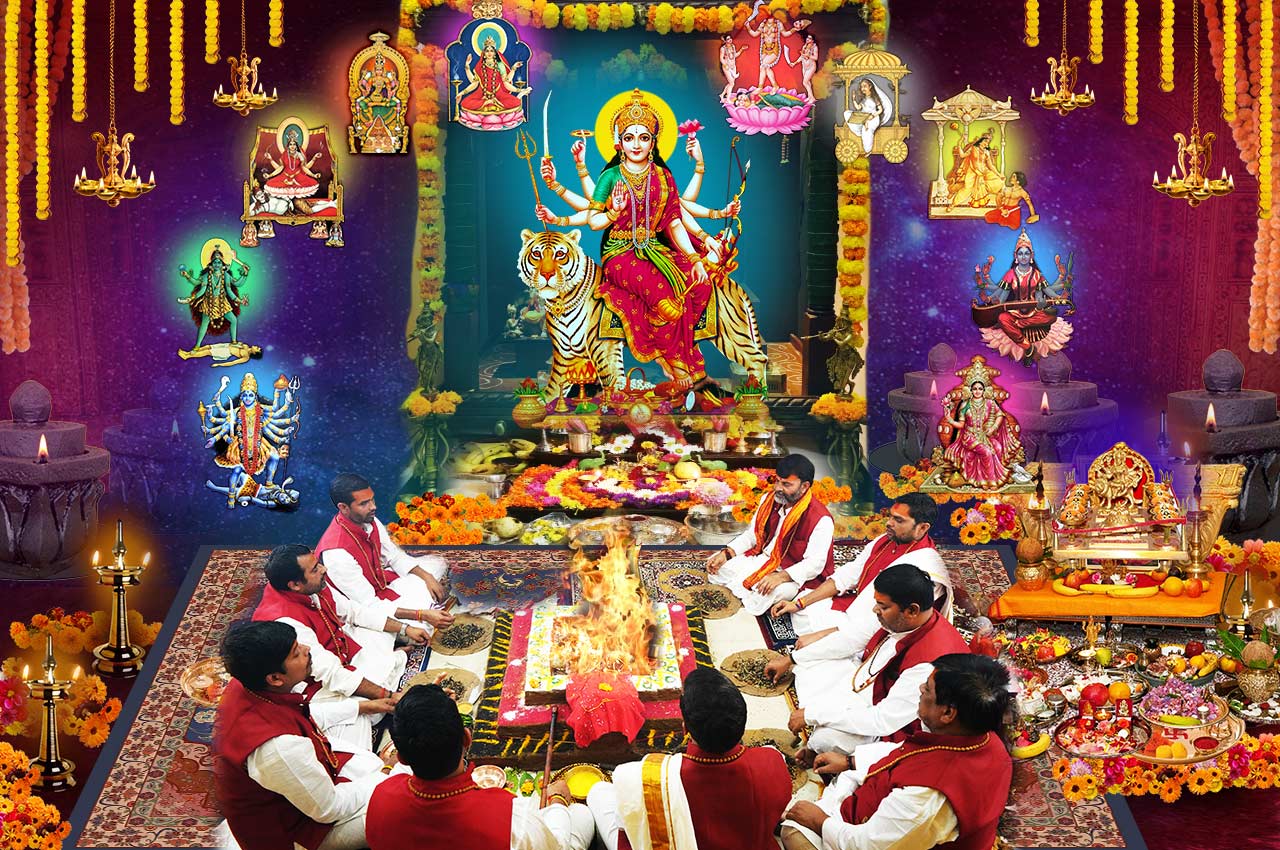 Navdurga with Nav Durga Maha Puja Benefits:
For divine grace and blessings of Maa Durga
For self-confidence, self power and courage to overcome all odd
For protection and relief from diseases
For health, wealth and prosperity
Puja Services Includes: Kalash Sthapana, Ghat Sthapana, Panchang Sthapana(Gauri, Ganesh, Shodash Matrika, Navgraha, Sarvotabhadra), Invocation of Durga, Gauri Tilak mandal, 64 yogini Puja, Chatukashti Yogini Mangal Pujan, Shetrapal Pujan, Swasti Vachan, Sankalpa, Ganesh Laxmi Pujan and Abhishek, Navgraha Pujan and 108 chants of each planetary mantra, Invocation of all Gods and Goddesses, Durga idol and yantra pujan and abhishek, Complete Saptashati paath recitation, Durga mantra japa 5100 times, Yajna, Aarti and Pushpanjali


Nav Durga mantras:
Maa Shailputri Mantra: Om Shaam Sheem Shoom Shailputryai Namah
Maa Brahmacharini Mantra: Om Braam Breem Broom Brahmcharinyai Namah
Maa Chandraghanta Mantra: Om Hreem Kleem Shreem Chandraghantayai Namah
Maa Kushmanda Mantra: Om Hreem Kushmandayai Jagatprasootyai Namah
Maa Skandmata Mantra: Om Hreem Saha Skandmatryai Namah
Maa Katyayni Mantra: Om Hreem Shreem Katyayanyai Namah
Maa Kaalratri Mantra: Aim Hreem Shreem Kaalratryai Namah
Maa Mahagauri Mantra: Om Hreem Shreem Glaum Gam Gauri Geem Namah
Maa Siddhidatri Mantra: Om Hreem Saha Siddhidatryai Namah


No. of Priests: 9
A short Video of the Sankalpa, multiple videos of the puja, mantra chanting and homa would be sent to you along with the photographs of the Puja ritual. Please provide your whatsapp number if possible for easy coordination.
Rudra Centre priests will perform Puja as per Vedic rituals based on birth details. Please mention your name, birth details or gotra and parents name and your Sankalpa (intention) at checkout. This is group puja along with other yajaman (you may do puja on individual name or include your near and dear ones in the puja). You can watch the puja via Live streaming whose link we would send to you before the start of the puja. Videos and pictures would be shared with you while the puja is live. Please share your WhatsApp number with us for easy coordination.
Puja Prasad is sent optionally with the puja.